How The Tutoring Center Franchise Corp® Can Help You Find Work-Life Balance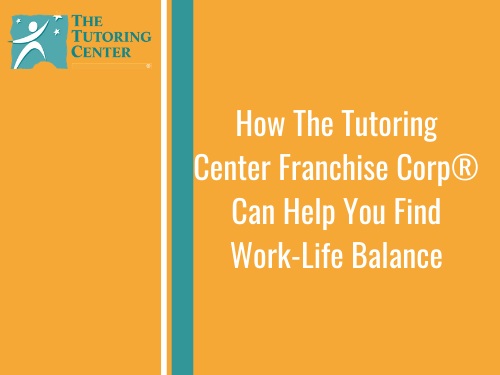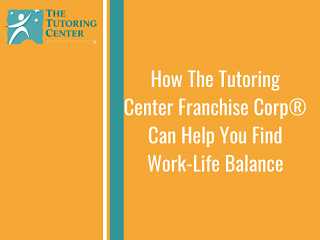 Undoubtedly, the concept of work-life balance is one of the most significant issues facing today's workforce. A recent Gallup study found that "76% of employees experience burnout at least sometimes, and 28% say they are burned out "very often" or "always" at work."
Many individuals struggle to balance work with family life and personal interests at some point in their careers. Whether you're just starting your career or are a well-established company employee, chances are you have more going on than just your 40-hour workweek. Some may be caring for small children while others may be trying to help out with aging parents. With everything going on, it can be easy to overlook our own personal well-being. When the pressures of the workplace start spilling over into our personal lives, it may be time to re-evaluate our priorities and make some changes.
While the decision to open your own business may seem contradictory to work-life balance, it doesn't have to be. That's where The Tutoring Center Franchise Corp® can help. If you have a passion for helping others succeed and want to make a difference, this may be an excellent opportunity for you.
Tutoring Center franchisees receive ongoing support and training from a successful, nationally recognized tutoring franchise. No need to reinvent the wheel. The Tutoring Center® uses a time-tested process for helping franchisees get established.
While getting a center established will take hard work and dedication, it will run like a well-oiled machine once it's established - leaving franchisees with more time to pursue engaging activities outside of work. Individuals who own tutoring franchises can spend more time with their families, pursue hobbies, and seek out new and beneficial opportunities for personal growth. They can take a week off without arousing the ire of toxic managers. In a contemporary work culture where downtime is frowned upon because of its effect on businesses and schools' bottom line, that kind of personal freedom cannot (and should not) be underestimated.
Also, education and after-school learning is one of the most significant growth industries in the United States. Helping children in your community achieve academic success, motivation, and confidence is an incredibly rewarding experience and continues to be one.
On top of that, the financial benefits of tutoring can be significant. The market for supplemental education is growing and growing. The economic opportunity this represents for The Tutoring Center® Franchisees is very rewarding. If you are considering investing in a franchise, supplemental education is a great option.
Indeed, the opening of a tutoring franchise is an excellent option for people who are tired of the vagaries of the rat race. More students may require additional academic support in the wake of the impact of the coronavirus outbreak on educational institutions. Thus, deciding to open one's own tutoring franchise has become an even more financially viable option.
Owning a Tutoring Center Franchise can help you find the freedom of a work-life balance like you've never experienced before.
At The Tutoring Center Franchise Corp®, our programs help children achieve long-term success, build concentration and focus, and, with our outstanding instructors, find the love of learning. If you're interested in owning a franchise or learning more about The Tutoring Center Franchise Corp®, please visit our website or click below to request more information.
Article originally published on LinkedIn.