Tips To Help Staff In Your Tutoring Business Part 1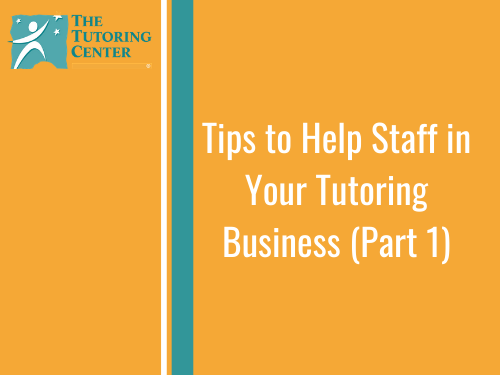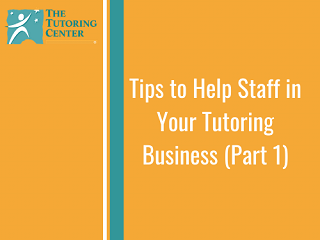 When it comes to operating your own tutoring business, a lot of details need to be taken care of in order to provide the best location for fostering academic improvements for young students. The Tutoring Center is a provider of tutoring franchises for those who are considering starting a tutoring business. We offer comprehensive resources along with our proven program to give entrepreneurs all of the tools needed to succeed. At the end of the day, it all comes down to the kids in need and how we make a difference in their lives. Today, we'll look at a few inside ideas that can help anyone learn how to become a tutor. If you're helping students to succeed and absorbing its rewarding effects, is it really considered work?
Making Learning Tangible
Often times, students struggle with understanding a new concept because they cannot visualize it. Many avenues of education, including science and history, may hold little impact on the student's life. Being able to pose an academic challenge in relatable terms can help kids to better understand the subject at hand and even inspire further interest. The key to promoting further educational learning relies on how interesting the subject is. If you have a student that shows no concern about a subject, try introducing more modern or relevant elements into your tutoring in order to inspire them. If The Periodic Table is not appealing, try associating funny anecdotes or amusing stories with each element to promote better memory retention. Engaging games are also a common cure for the boring nature of some parts of the school curriculum. As long as you can make a connection between the real world and the problem on paper, students should be able to envision the work and hopefully produce an accurate answer!
Engaged Feedback
The tutoring process gives immediate benefits over classroom teaching due to the private setting that includes the student and their tutor. If a student has a hard time keeping focused, be sure to take frequent breaks in order to converse with them about what was just covered. This way, the pupil will become engaged in direct conversation, keeping their attention on the problem at hand. Your education franchise should be focused on fostering educational betterment. If the student is not keeping up with the lesson, then the time is wasted. Pausing to ask questions or to answer any that the child has will be dually beneficial in accomplishing the task at hand. If your pupil understands the lesson, you'll know to move on. If not, rectifying the problem now is much preferable to trying to fix it after the exam!
Encouraging Independence
The purpose of your tutoring franchise should be to help students excel at their academic activities. However, this attitude should not be limited to the current assignment. As a tutor or supervisor over tutors, the responsibility rests on your shoulders for instilling a lifetime of independent and critical thinking for students. If a child has the ability to take on and solve complex problems by themselves, their confidence in school will undoubtedly take off. Your work as a tutor will hopefully help even further down the road into college and beyond. Equipping students with the tools needed to be self-sufficient can be one of the most valuable parts of the tutoring process. If the pupil becomes excited to learn and utilize their deep thinking, then you've accomplished a job well done!
Starting a franchise of your own is a very involved process that can involve strenuous hours and huge risks in the pursuit of success. The Tutoring Center can help! We provide amazing tutoring franchises to qualified individuals. When you start your tutoring business with us, you'll receive all of the logistics and support needed to let your franchise thrive. If your franchise uses the best teaching practices available, then your students should go far. To learn more about starting an education franchise, contact us today!
At The Tutoring Center Franchise Corp®, our programs help children achieve long-term success, build concentration and focus, and, with our outstanding instructors, find the love of learning. If you're interested in owning a franchise or learning more about The Tutoring Center Franchise Corp®, please visit our website or click below to request more information.